The city of Jakarta is divided into 5 municipalities, starting from Central Jakarta, East Jakarta, West Jakarta, South Jakarta, and finally North Jakarta. With all the busyness that is happening in Jakarta, of course we need time to rest and time to vacation. For residents of Jakarta, vacationing does not have to go far from Jakarta, but you can visit tourist attractions around Jakarta. What are the tourist attractions around Jakarta that must be visited?
14. Bogor Botanical Gardens
Bogor Botanical Gardens, located in Bogor City, is a weekend destination for residents of Jakarta, Bogor and surrounding areas. Bogor Botanical Garden is a botanical garden with an area of ​​about 87 hectares and has more than 15,000 plants so it is very suitable for picnic and sitting activities. Besides that, this place is also suitable for taking pictures and exercising because the air is cool and fresh. The most famous collections owned by the Bogor Botanical Gardens are the corpse flower which is the largest flower in the world, and the oldest oil palm tree in Southeast Asia.
13. The Jungle
The Jungle is one of the most complete water rides in the Bogor area with an area of ​​approximately 3.6 hectares. Located in Bogor Nirwana Residence, The Jungle is very crowded with families looking for fun entertainment. The types of rides and facilities available in The Jungle are children's pool, long slide, relaxing pool, current pool, water futsal area, 4D cinema, haunted house, dining area, bird park, non-water children's play area, rest area, shop souvenirs, snow rides, paintball, karts, and flying fox.
12. Water Boom Lippo Cikarang
Water Boom Lippo Cikarang is a water recreation park covering an area of ​​around 3.4 hectares with a visitor capacity of 7,000 people and a car park capacity of 500 cars. The concept of the Water Boom Lippo Cikarang tourist area is a beautiful Balinese nuance so that it can present a calm and pleasant atmosphere. The facilities at Water Boom Lippo Cikarang are a current pool, adult pool, children's pool, cheerful pool, food court, spa, children's play area, outbound, and fish therapy. Water Boom Lippo Cikarang is open every day with an entrance ticket price of 55,000 Rupiah on weekdays and 85,000 Rupiah on weekends and holidays.
11. Widya Mandala Krida Bakti Scouting Cibubur Flower Park
The Widya Mandala Krida Bakti Pramuka Cibubur Flower Park was built by President Soeharto in 1980 on a plot of land measuring approximately 15 hectares. Although less well-known, this place is one of the tourist attractions around Jakarta which has lots of green plants and colorful flowers. In addition, in this place there is also a swimming pool, children's playground, and various types of water games. The ticket price for the Widya Mandala Krida Bakti Pramuka Cibubur Flower Park is not expensive, only 6,000 Rupiah per person. For scouts the price is cheaper. The swimming pool ticket price is 12,000 IDR for weekdays, and 18,000 IDR for weekends and holidays.
10. Depok City Forest
Depok City Forest, located at the University of Indonesia, presents natural beauty in the middle of Jakarta. Many forest lovers come to Depok City Forest for sightseeing, cycling, exercising, and fishing in the lake. If you want to stay overnight, there is an inn called Wisma Makara.
9. Kandank Jurank Doank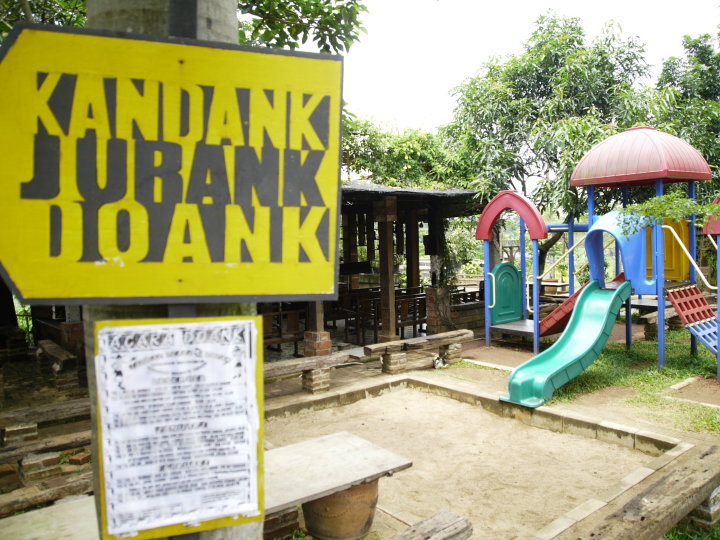 Founded in 1993, Kandank Jurank Doank is one of the tourist attractions around Jakarta which is very fun for children. Founded by artist Dik Doank, Kandank Jurank Doank was originally a nature school aimed at children in the villages around Kandank Jurank Doank. Located in Ciputat, South Tangerang, Kandank Jurank Doank has now been transformed into an educational tourist spot for children with a cool atmosphere with lots of trees and rice fields.
8. Godong Ijo
Godong Ijo is one of the tourist attractions around Jakarta which is located in Sawangan, Depok. Located right on the edge of the main road, Godong Ijo is widely known by local residents so it will be very easy to find this place. Various facilities can be found at Godong Ijo, such as restaurants, fish ponds, giant turtles, green houses, fishing, vertical gardens, and others. With a variety of fun educational facilities and programs such as little chefs, playing ceramics, little doctors, farming classes, natural friends, and so on, Godong Ijo is an interesting family educational tour to visit.
7. Fort Heritage Museum
For those of you who like historical attractions, don't forget to visit the Benteng Heritage Museum in Tangerang. This museum is a building built in the 17th century with a touch of traditional Chinese architecture. The museum which is located on Jl. Cilame No. 20, Pasar Lama is one of the oldest buildings in Tangerang City.
There are many interesting things that can be witnessed at this tourist spot in Tangerang, especially the history of Chinese ethnicity. One of them is the history of Zheng He's fleet landing in Indonesia. In addition, for those who like photography, there is a gallery that stores various vintage camera models. You can also learn the history of music through a collection of several song player tools.
At certain moments, there will be many events held inside the museum area. This kind of agenda is also one of the attractions of visitors. Even though it is an old building, this museum still creates a warm impression. Not surprisingly, this tourist spot is still quite busy until now.
6. Situ Gede
Situ Gede is a lake with an area of ​​about 6 hectares, located in the city of Bogor. Maybe for you, Situ Gede has never been heard of, but for Bogor residents, Situ Gede has become a daily tourist spot for local residents. Favorite activities carried out in Situ Gede are fishing, walking in the forest, playing boats, and other water tours on the edge of the Dramaga Forest. Located about 10 KM from the center of Bogor City, Situ Gede is often used as a place to shoot soap operas that we often watch on television.
5. Camping Karang Kitri
Bumi Perkemahan Karang Kitri is one of the tourist attractions around Jakarta, precisely located in Bojong Manggu, Bekasi. As the name implies, Camping Ground Karang Kitri is a camping tourist spot with beautiful natural scenery. Apart from camping, you can also play outbound at the Karang Kitri Camping Ground. There is no need to worry about not being able to set up a tent at the Karang Kitri Camping Ground because the camping equipment at the Karang Kitri Camping Ground is very complete.
4. Muara Gembong Beach
Muara Gembong Beach is a beach area in Pantai Bahagia Village, Bekasi. Muara Gembong Beach is one of the favorite tourist attractions for Bekasi residents because of the complete facilities and facilities, the beauty of the beach, and the beautiful mangrove forests. In addition, there is also fish and shrimp pond cultivation at Muara Gembong Beach.
3. The Thousand Islands
The Thousand Islands are the most favorite tourist attractions around Jakarta because they are close, we just need to cross by boat and we can enjoy the beautiful beaches of the Thousand Islands. As the name suggests, the Thousand Islands have many islands, for example Bidadari Island, Tidung Island, Putri Island, Ayer Island, Sepa Island, Pantara Island, and others with their respective advantages and disadvantages. My tip is if you want to stay in the Thousand Islands, bring supplies such as drinks and snacks because if you buy in the Thousand Islands, the price can be very expensive.
2. BSD Xtreme Park
For those of you who want to go to the BSD area and like adrenaline-pumping challenges, you must come here. The name is BSD Xtreme Park.
This tourist spot is suitable for children and adults. As in the picture, children can enjoy lighter games than adults.
The price offered varies, depending on what you want to play. Like rock and rope, you will be charged 45,000 rupiah on weekdays and 65,000 rupiah on weekends, while for paintball with 30 bullets you will be charged 70,000 rupiah on weekdays and weekends.
1. The peak
There is no Jakarta person who doesn't know Puncak. Puncak is a mountainous area very close to Jakarta and can be reached in about 1.5 hours with good traffic conditions. Puncak offers a mountainous atmosphere with green tea gardens and cool air so that it can liberate Jakartans from the city atmosphere that is overwhelming. No doubt, Puncak is the most famous and most visited tourist spot around Jakarta.
sumber : anekatempatwisata.com