As the capital city of Indonesia, Jakarta is known as a city that is congested, congested, and has few natural attractions. As the national capital, the city of Jakarta has a lot of history, so you can visit many historical tourist attractions here. The National Monument (Monas) or the Old City is one of the famous historical tours in Jakarta. But who would have thought this super dense city also has the potential for beautiful beach tourism. Are there beaches in Jakarta and its surroundings that are beautiful and can make Jakarta's fatigue disappear? Of course there are, quite a lot! In today's discussion, we will provide some references to beach tourist attractions in Jakarta and its surroundings. Curious? Check out the reviews below.
1. Ancol Beach
Ancol is one of the icons of beach tourism rides in the city of Jakarta. This tourist spot is so famous that it is not surprising that those who come from outside the city of Jakarta or from within the city themselves like to visit Ancol. During the holiday season, Ancol is always full of visitors. This is due to the many entertainment offered by Ancol, such as ocean arena, fantasy world (dufan) and many others.
2. The Thousand Islands
Although separated from the island of Java, the Thousand Islands is part of the DKI Jakarta province. In the islands which cover 108,000 hectares, there are many exotic destinations that you must visit, such as Pramuka Island, Tidung Island, Pari Island and Hope Island. In the archipelago which is located 45 km north of the city of Jakarta, not only is the sea level beautiful, the underwater tourism is also interesting to explore.
3. Angel Island
Bidadari Island is one of the islands in the Thousand Islands. To reach this beach resort around Jakarta, you can go through the Marina pier in Taman Impian Jaya Ancol by taking a speed boat for about 30 minutes. What is unique about this island is its white sand and clear blue sea. On Bidadari Island, there are land cottages as well as floating cottages which are often chosen by tourists as weekend spots. In addition, the beautiful and beautiful scenery is also suitable for doing various types of sports, such as cycling, water sports, or just relaxing enjoying the blue sky and sunbathing in the sun.
4. Tidung Island
Still in the Thousand Islands, Tidung Island is a combination of white sand beaches and calm seas which is suitable for those of you who are looking for peaceful tourist attractions around Jakarta. The island itself is divided into two, namely Tidung Besar and Tidung Kecil which are connected by a bridge called Jembatan Cinta. On Tidung Besar Island, there is a population with the largest number of islands in the Thousand Islands. To get to this island, you have to travel for three hours from Muara Angke Harbor.
5. Pramuka Island
This island is located in the middle of the sea cluster of the Thousand Islands. On Pramuka Island, there are many residents who work as fishermen and inn owners for rent to tourists. There are many activities you can do on this island such as snorkeling, fishing, canoeing, diving or just enjoying the beautiful beaches. On this island you can also see the hawksbill turtle breeding, an unforgettable experience.
6. Pari Island
Because it has a shape similar to a Pari fish when viewed from above, this island was then named Pari Island. With soft white sand and a calm beach area, this island is suitable for those of you who like tranquility.
On the other hand, this island is also the area of ​​the LIPI Marine Research Center. If you want to visit this island, you can depart from Marina Pier in Ancol or Muara Angke Harbor with a trip that takes 1 to 1.5 hours using a speed boat. Or it could be from Rambut Island, Tidung Island, Lancang Island and Pramuka Island for a shorter trip, which is only 30 minutes.
7. Jakarta Bay
Jakarta Bay is an area that is still in the same area as the Thousand Islands. This place can be the right place to release fatigue after being tired of struggling with daily routines and needing a vacation. There is a lot that can be done here such as chartering a boat to get around. You can rent a boat from Ancol or use a fishing boat in Teluk Gong, Tangerang. There are also cottages available here that you can rent to spend the night and get away for a moment from the stress of Jakarta. Want to see the beauty of coral reefs? Try snorkeling in the shallow sea.
8. Beach Anyer
It is located about 30 km from the western part of Jakarta or the banks are in Serang, Banten. This beach is also a beach that is frequently visited by tourists from Jakarta and its surroundings. Many make Anyer Beach a tourist destination because of its beautiful beaches and complete accommodation facilities. From this coastal area, you can see Mount Rakata, a child from Mount Krakatau, towering behind the sea. On Anyer Beach there is also a lighthouse which is a legacy of the Dutch colonial administration.
Also Read: 9 Beaches in Anyer You Must Visit!
9. Carita Beach
This beach is also located in Banten, precisely in Pandeglang Regency. For those of you who live in Jakarta and its surroundings, you must be familiar with this beach. Beautiful white sand and blue sea water are the features that you will find here. In the Carita Beach area, there are many inns or villas for overnight stays, as well as other entertainment facilities.
10. Sawarna Beach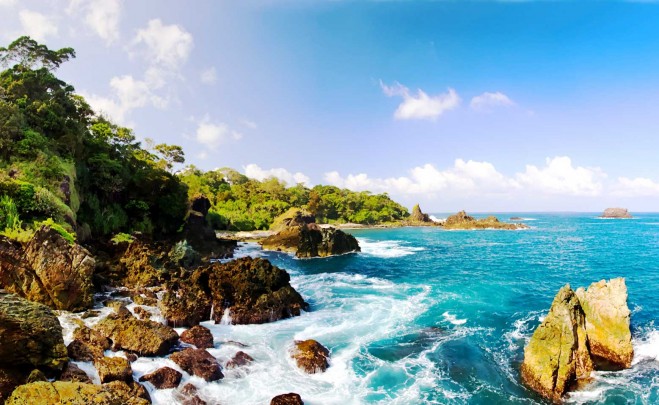 Sawarna Beach is a beach that is relatively natural, because it has not been managed and developed like other beaches in Banten. There are three coastal areas that you must visit while on Sawarna Beach, namely Bokor Beach, Karang Ciantir Beach and Karang Taraje Beach. On this beach, you can do cave tubing, because this beach has many limestone caves that you can explore. There are also homestays that have been provided for those of you who want to spend the night on this beach.
sumber : anekatempatwisata.com