For residents of Jakarta, going on a tour does not have to go out of town or to the mall. Indeed, there are many tourist attractions in West Java, but what if you only have a little time or are lazy to travel long distances? The answer is easy, you can try visiting tourist attractions in East Jakarta. What are the tourist attractions in East Jakarta besides the mall?
1. Beautiful Indonesian Mini Park (TMII)
Taman Mini Indonesia Indah or abbreviated as TMII is the most popular tourist spot in East Jakarta. With an area of ​​around 150 hectares, TMII is a tourist spot in East Jakarta with the theme of Indonesian culture, so by visiting TMII, you can enjoy all Indonesian culture at one time. You can see various types of traditional houses typical of each region, and places of worship for each religion in Indonesia. Besides that, you can also see traditional clothes and dances. At TMII there are also miniatures of Indonesia and various types of interesting museums. for example a museum of transportation, a museum of sports, a museum of electricity, a museum of insects, and others. If you want a different atmosphere, TMII also has recreational facilities such as the Indonesian children's palace, cable car, the Keong Mas theater, Snowbay Waterpark, and others. TMII also has various types of gardens ranging from cactus gardens, orchid gardens, bird gardens, to Chinese cultural parks.
2. Lake Arwana Cibubur (TAC)
Telaga Arwana CIbubur is a recreational and educational park located on Jalan Jambore, Cibubur. Its location inside makes Lake Arwana CIbubur is less well known, but actually this place is suitable to be a place for family recreation which is quite fun and cheap. With an educational and creative orientation, Telaga Arwana Cibubur is perfect for your child. The facilities you can enjoy here are a restaurant with a rural atmosphere, fishing games, floating donut games, swimming pools, fishing ponds, ATV games, ceramic houses, outbound rides, flying fox, and rice field rides. This educational tourist spot is suitable for those of you who want to introduce your child to nature while increasing knowledge.
3. Camping Ground and Graha Wisata Cibubur (Buperta Cibubur)
Bumi Perkemahan and Graha Wisata CIbubur or Buperta CIbubur is an alternative tourist spot in East Jakarta which is suitable for you and your family. Buperta Cibubur, which is located on the edge of the Jagorawi km 13 toll road, has a land area of ​​about 210 hectares with hilly forest contours. The atmosphere at Bupetra CIbubur is very beautiful, cool, green, and natural so it is very suitable for camping activities and outdoor activities with a very large number of people. In addition, Bupetra CIbubur also has a lake and beautiful scenery and is safe from wild animals. The facilities and facilities here are paintball, soccer field, activity field, hall, traffic park, clean water, swimming pool, fishing, water games on the lake, equipment rental, tents, lodging rooms, cafeterias, and facilities. worship.
4. Chinese Village, Cibubur Tourism City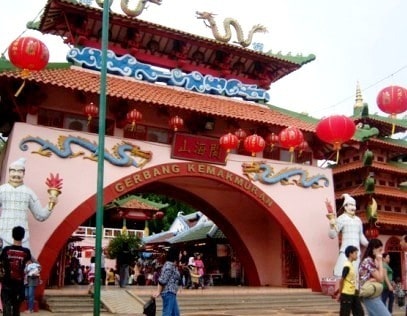 Kota Wisata Cibubur is often full of visitors from Jakarta and its surroundings, especially on weekends. Kota Wisata Cibubur is actually a housing complex covering an area of ​​8 hectares, but has unique and fun entertainment facilities. One of them is the shopping tourism facility in Kampung China, Kota Wisata Cibubur. This place is a kind of market that is built in a Chinese atmosphere and sells various Chinese goods at low prices. Apart from Kampung China, the Tourism City of CIbubur also has a Japanese Village, an Indonesian Village, a European Village, and others but is not as busy as the Chinese Village. In Kota Wisata Cibubur, there is also a children's recreation area called fantasy land.
5. Aji Stone and Gems Exchange (Jakarta Gems Center)
The Aji Stone and Gemstone Exchange, located in Jatinegara, is the largest shopping place for gemstones and gems in Asia with more than 1,300 stalls. This place is not only visited by local tourists, but also foreign tourists who want to hunt for precious stones and gems. For those who want their stones to be used as material for rings or other jewelry, there is also a kiosk that makes jewelry from precious stones. Apart from the original stones, there are also artificial stones here.
6. Pancasila Sakti Monument
Pancasila Sakti Monument, located on Jalan Lubang Buaya, East Jakarta, is a historical tourist spot better known as Lubang Buaya and is a monument to commemorate G30S / PKI. In this location there is a well where the corpse is dumped, a PKI treason museum, a torture house, a command post, a kitchen, a Paseban museum, a theater room, and a car that was used during the G30S / PKI. The price of admission to this place is very cheap, only 5,000 Rupiah to be able to enjoy interesting historical tours and increase knowledge.
7. Cibubur Garden Dairy (Cibugary)
Cibubur Garden Dairy or often called Cibugary is a tourist spot in East Jakarta with educational nuances and is very suitable for children. In Cibugary, you can see the process of milking the cows, and the processing of their milk. Apart from seeing cows and calves, you can also try bathing cows, feeding cows, and milking cows. These three activities have a special attraction for children. Located in East Jakarta, precisely at Pondok Ranggon Cipayung, Cibugary is often crowded with school groups, but it doesn't matter if you and your family want to come to visit, you don't have to be in groups to visit this place. Here also has facilities for children's games and huts to rest. If you want to visit, my advice is to wear closed clothes and shoes, because this is a real farm. Masks can also be useful to get rid of the smell of cow dung.
---
Also read: 11 best tourist attractions in Indonesia and recommendations for MACAN Museum tours, interesting art tours in the city of Jakarta
---
Complete list of Jakarta tours:
sumber : anekatempatwisata.com